Umm Arouk Dive Site is an ideal spot for novice divers due to its shallow depth and minimal currents. The sandy seabed slopes gently around the reef, and the stony forest creates an impressive scene, rising to a depth of 5 meters below the surface. The sloping walls to the north and east are full of corals, with shoals of sweetlips and other fish, adding to the breathtaking views. The eastern wall has small outcrops and recesses with an impressive colony of anemones at 5 meters. The western and southern sides are relatively barren, but still offer unique diving experiences.
Umm Arouk Dive Site boasts a wide variety of marine life. Divers can spot different species of fish, such as sweetlips, angelfish, and barracudas. You can also see unique marine creatures such as octopuses, shrimps, and sea urchins, especially during night dives. The stony forest is also home to a plethora of coral formations, including brain coral, table coral, and staghorn coral.
Liveaboard Trips to Umm Arouk
Diving enthusiasts can experience the beauty of Umm Arouk Dive Site by joining liveaboard trips. Many liveaboard operators offer packages to explore this magnificent diving spot along with other famous reefs in the Red Sea. You can enjoy multiple dives at Umm Arouk while staying onboard and indulging in the exceptional amenities offered by liveaboard trips.
Umm Arouk Dive Site is a unique and enchanting diving destination in the Red Sea, perfect for novice divers, marine life enthusiasts, and experienced divers alike. With its extensive stony forest and diverse marine life, this site offers an unforgettable experience for anyone who visits. Whether you prefer day diving or night diving, Umm Arouk Dive Site will leave you mesmerized.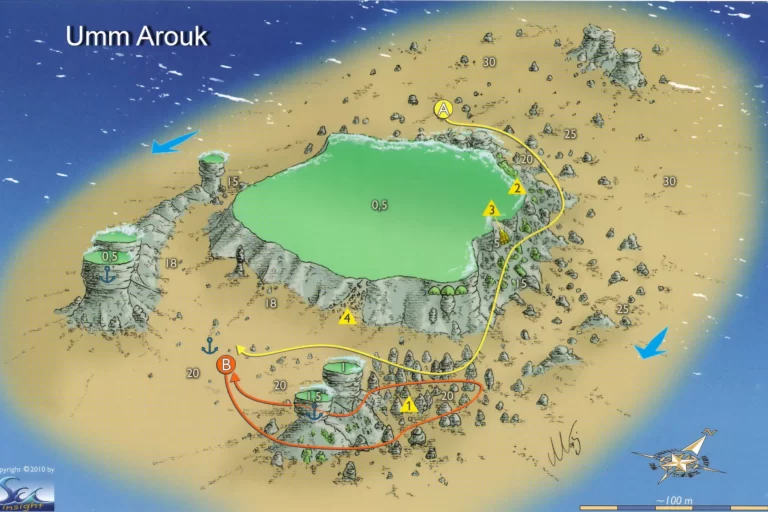 Umm Arouk Dive Site is located in the center of St. John's reefs, 54 km from the southern tip of the Ras Banas peninsula in the Red Sea.