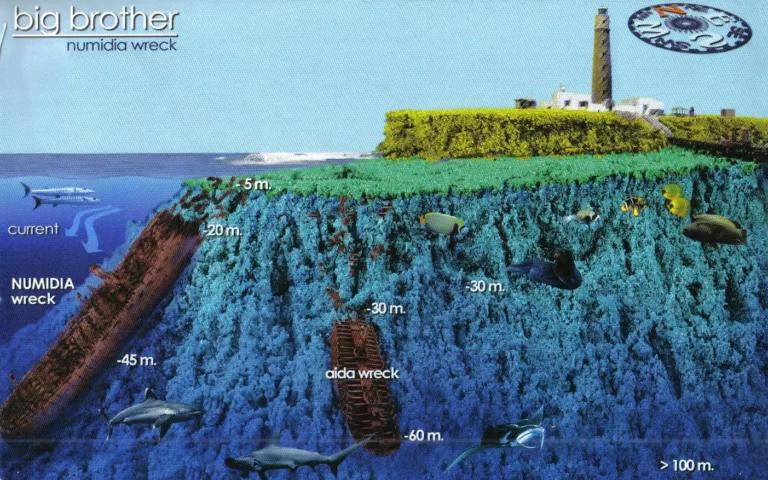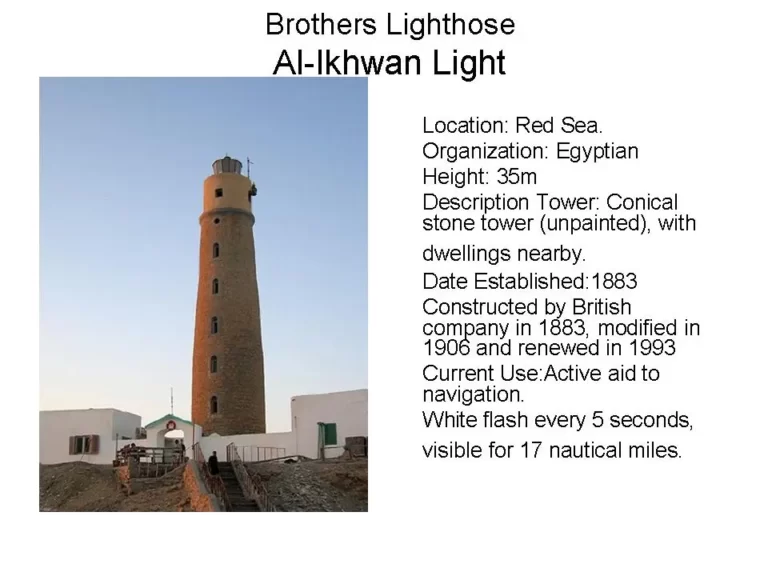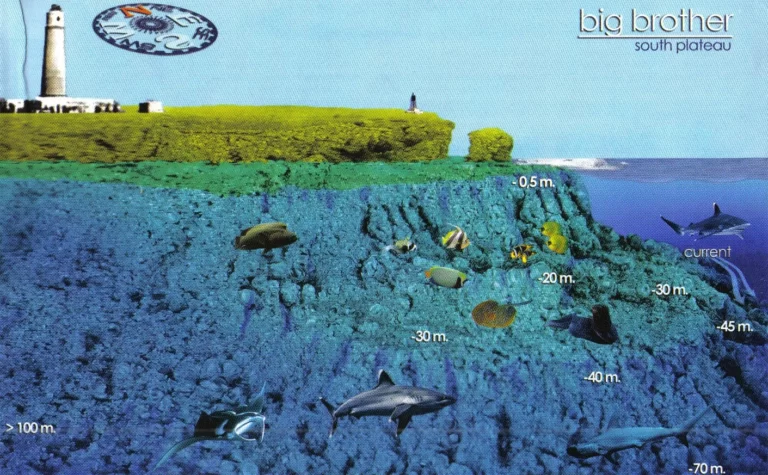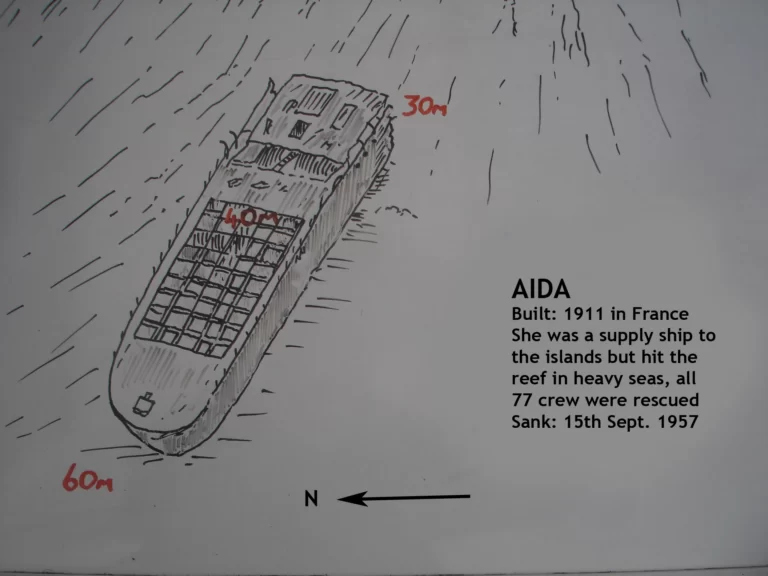 History of Big Brothers Islands
The Brothers Islands have a rich history, dating back to ancient times, and they were known as "The Isles of Fire" due to the volcanic activity on the islands. In the 19th century, the British built a lighthouse on Big Brother island to help guide ships through the Red Sea. Both islands served as strategic outposts for the British army during World War II and were used as naval bases.
Diving in Brothers Islands "El Akhawein"
To fully enjoy and appreciate the beauty of
Brothers Island's underwater world, it is recommended that divers have an advanced level of diving experience. The strong currents and sometimes challenging conditions require a certain level of expertise to navigate safely. As a general guideline, it is recommended that divers have at least 40 logged dives to join a liveaboard diving trip to the Brothers Islands. Some diving centers or liveaboards may have specific requirements for divers, so it is best to check with them beforehand.
If you are an experienced diver and meet the requirements, diving in Brothers Island is an opportunity of a lifetime that you surely won't want to miss. The diverse range of marine life and breathtaking underwater scenery will leave you in awe and create memories that will last a lifetime.
Dive Safely
Diving on Brothers Island is an adventure of a lifetime, but it is crucial to dive safely. Always dive with a buddy, follow the instructions of your dive master, and monitor your dive time and depth.
Explore the Dive Sites
Big Brother Island has numerous dive sites, including the Numidia wreck, the Aida wreck, and the Plateau. The Numidia wreck is the most famous dive site and is home to various marine species, including schools of hammerhead sharks, giant barracudas, and moray eels. Little Brother Island has a breathtaking pinnacle rising from the depths, surrounded by colorful coral reefs and diverse marine life.
Be Prepared for Strong Currents
Brothers Island is known for its strong currents, which can be dangerous if you are not experienced. It is essential to have your Surface Marker Buoy (SMB) to signal your location to the boat's crew.
Little Brother Island is part of a pair of islands in the Red Sea, with its larger counterpart, Big Brother Island, located just a few hundred meters away. The island is relatively small, measuring only about 400 meters in length and 150 meters in width. The island rises steeply from the seabed, with its highest point reaching around 30 meters above the surface
The diving conditions around Little Brother Island are generally excellent. The island is situated in the open sea, which means that currents can be strong at times. However, these currents also bring in nutrient-rich water, which supports the island's rich marine ecosystem. The visibility is usually good, ranging from 20 to 30 meters, and the water temperature ranges from 22 to 28 degrees Celsius.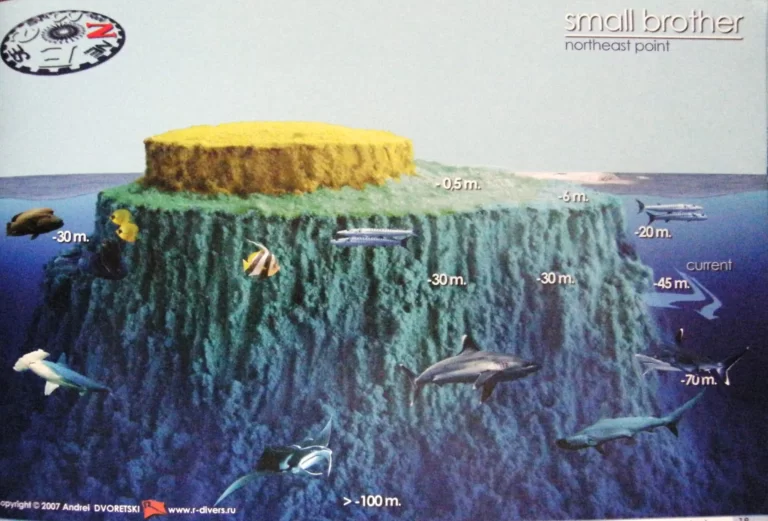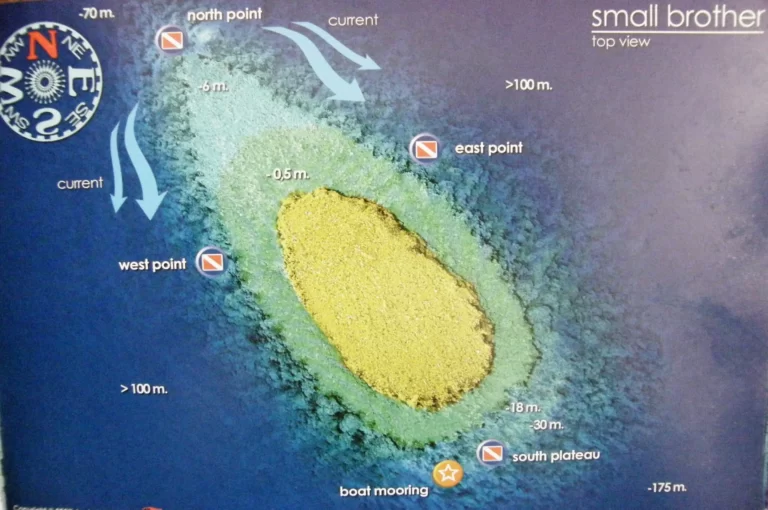 Marine Life at Brothers Islands "El Akhawein"
The Brothers Islands are home to a diverse range of marine life, including vibrant corals, schools of colorful reef fish, and an abundance of pelagic species. Divers can expect to see schools of hammerhead sharks, grey reef sharks, thresher sharks, and occasional sightings of the elusive oceanic whitetip shark. Manta rays and whale sharks are also regular visitors to the area, providing a unique and unforgettable experience for divers.
Liveaboard trips to Brothers Islands
The Brothers Islands are accessible only by liveaboard boats, making it a perfect destination for divers exploring multiple regional dive sites. Many liveaboard trips are available, ranging from budget to luxury options, with varying itineraries to cater to different diving preferences.
The Brothers Islands, consisting of Big Brother and Little Brother, are undoubtedly one of the best diving destinations in the world, offering an unforgettable experience for divers. The unique marine life, stunning coral reefs, and challenging currents make it an ideal location for experienced divers.
Where is Brothers Islands
The Brothers Islands, also known as the Al-Ikhwan Islands, are located in the Red Sea, about 40 kilometers east of the Sinai Peninsula and 200 kilometers south of Hurghada, Egypt. They are a popular destination for scuba diving and can be accessed via liveaboard trips from Hurghada or Port Ghalib.
Big Brother

Little Brother
Frequently Asked Questions for Brothers Island
How many days can I spend in Brothers Island with a liveaboard?
The Egyptian Navy sometimes allows liveaboards to stay for two days, while other times, it's only allowed for one day.
Can anyone dive at Brothers Island, and what certification is required?
Not everyone can dive at Brothers Island. Depending on your organization, you may need to have an advanced open water certification (e.g., PADI) or a 2-star diver certification (e.g., CMAS).
How many dives can I make at Brothers Island, and what can I expect to see?
You can make up to three dives on Big Brothers Island, which features two famous wrecks: the Aida and Numidia. On Little Brother Island, you can make two or three dives and have a chance to see oceanic whitetip sharks and hammerhead sharks, among other marine life.
Is the current strong at Brothers Island?
Usually, the current is strong at Brothers Island, so we highly recommend that each diver has their own surface marker buoy (SMB) while diving.
When is the best time to visit Brothers Island?
You can visit Brothers Island year-round, but it's best to keep an eye on updates for when it's open to visitors.
What diving equipment do I need for diving at Brothers Island?
You will need to bring or rent proper diving equipment, including a wetsuit, fins, mask, regulator, buoyancy compensator device (BCD), dive computer, and surface marker buoy (SMB). It's recommended to have your own equipment, but it can also be rented from the liveaboard or local dive center.
What is the water temperature like at Brothers Island?
The water temperature at Brothers Island ranges from 22°C (72°F) in the winter months to 30°C (86°F) in the summer months. A 5-7mm wetsuit is recommended for most divers, although some may prefer a thicker or thinner wetsuit depending on their comfort level.