Paradise Reef is a stunning dive site in St. John's, one of the most popular diving areas in the Red Sea. This dive site is perfect for divers of all levels and offers a unique underwater experience. The reef starts with a sandy bottom where divers can observe garden eels swaying in the current. As divers progress, the reef rises in pinnacles, walls, and swim-throughs, surrounded by an abundance of colorful and healthy hard and soft corals.
Paradise Reef is home to many marine life, including schools of fusiliers, snappers, and other reef fish. Divers may encounter moray eels, lionfish, turtles, reef sharks, and even manta rays if lucky. The site is also rich in smaller creatures like nudibranchs, shrimps, and crabs, making it a perfect location for macro photography.
The visibility at Paradise Reef is generally excellent, averaging between 20 to 30 meters (65 to 100 feet) and sometimes even more. Water temperatures are warm and pleasant, ranging from 23 to 29°C (73 to 84°F), making it comfortable for diving year-round.
To access Paradise Reef, visitors typically take a liveaboard trip from Marsa Alam or Port Ghaleb, which takes approximately 11 hours to reach the area. The reef is divided into two parts, the north, and the south, and is located just 20 minutes by boat from St. John's Reef.
Divers should remember some tips to enjoy the dive at Paradise Reef fully. It is recommended to bring a dive light to explore the small caves and crevices that hide many exciting creatures. Divers should also watch their buoyancy, avoid touching the corals or stirring up the sand and keep an eye on the current, which can be strong and change direction quickly. Finally, divers should respect marine life, including the resident turtles, and maintain a respectful distance to avoid disturbing them.
Liveaboard Trips to Paradise Reef
A liveaboard trip to Paradise Reef at St. John's is a fantastic way to experience some of the Red Sea's most stunning dive sites. The journey typically begins from Marsa Alam or Port Ghalib ports and takes around 11 hours to reach the area.
Once there, divers can explore various sites, including the famous St. John's reef, which I knew for its impressive underwater canyons, tunnels, and pinnacles. The area is home to abundant marine life, including schools of fish, dolphins, and even the occasional hammerhead shark.
Other popular dive sites in the St. John's area include Gota Kebir, Umm Aruk, and Habili Ali, which offer an array of underwater landscapes and unique marine encounters.
A liveaboard trip to St. John's is a great way to fully immerse oneself in the diving experience, as divers can explore the area at their own pace and have the opportunity to do multiple dives per day. Liveaboards also offer comfortable onboard accommodations and facilities and the convenience of having all dive equipment and logistics taken care of by the crew.
Overall, a liveaboard trip to St. John's is a must-do for any serious diver looking to explore the wonders of the Red Sea. With its stunning dive sites, diverse marine life, and comfortable onboard facilities, it promises an unforgettable diving experience.
In conclusion, Paradise Reef in the Red Sea is a must-visit dive site for divers of all levels. Its abundance of vibrant corals, diverse marine life, and excellent visibility offers a spectacular underwater experience. The site's warm water temperature and gentle current make it comfortable to dive year-round. However, practicing good diving etiquettes, such as avoiding touching the corals or disturbing marine life, is essential to help protect the delicate ecosystem.
For those looking for a liveaboard trip, the route to St. John's offers a fantastic opportunity to explore the Red Sea's diverse marine life, including the stunning Paradise Reef. With departure points in Marsa Alam or Port Ghalib and a journey of around 11 hours, visitors can enjoy multiple dives at various locations along the way.
Whether diving independently or as part of a liveaboard trip, Paradise Reef promises an unforgettable underwater adventure filled with stunning coral formations, colorful marine life, and fascinating creatures waiting to be discovered.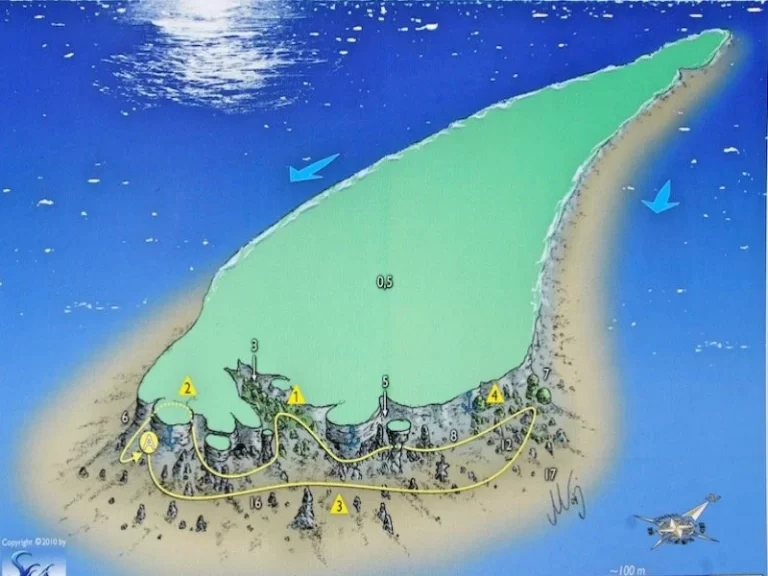 Paradise Reef is located in the southern Red Sea, just a short distance from St. John's Reefs.