The Red Sea in Egypt is known for its stunning coral reefs and diverse marine life, but it is also home to several unique dive sites that offer something special for adventurous divers. One such site is St. John's Caves, also known as Umm Kharalim, located in the St. John's area of the Red Sea. Let's dive into the wonders of this unique dive site and what makes it such a special place to explore.
Diving in St. John's Caves
To explore St. John's Caves, divers must have advanced open-water certifications and experience with diving in overhead environments. The entrance to the caves is located on the southern side of a more oversized island, where divers descend onto a sloping reef before reaching the entrance to the first cave. The caves and tunnels twist and turn, leading divers on a thrilling journey through a hidden world.
Marine Life at St. John's Caves
St. John's Caves is home to diverse marine life, making it a popular destination for liveaboard trips in the Red Sea. The caves and caverns are fascinating and shelter various fish species and invertebrates.
Divers can expect large schools of anthias, fusiliers, and snappers to swim along the reef, while lionfish, scorpionfish, and stonefish hide in the caves and crevices. Moray eels are also a common sight, with the giant moray being the most notable species in the Red Sea.
Sharks are also a highlight of diving at St. John's Caves. Divers may spot whitetip reef sharks resting on sandy patches or swimming along the reef's edge. Hammerhead sharks are a rare but thrilling sight for lucky divers.
Other notable sightings include turtles, octopuses, and giant clams. For macro enthusiasts, there are also many small creatures to discover, such as nudibranchs, shrimps, and crabs.
Overall, the marine life at St. John's Caves is diverse and abundant, providing a thrilling and unforgettable diving experience for enthusiasts of all levels.
Liveaboard Trips to St. John's Caves
St. John's Caves is a must-visit destination for divers seeking a unique and thrilling experience in the Red Sea. Located in the St. John's Reef system, this dive site is known for its underwater cave formations and tunnels that create an otherworldly atmosphere.
Liveaboard trips to St. John's Caves offer the opportunity to explore this fascinating dive site in depth. The trips usually depart from Marsa Alam or Port Ghalib and take around 11 hours to reach the area. Once there, divers can expect to experience a one-of-a-kind adventure, swimming through winding tunnels and caves adorned with colorful corals and sponges.
The caves are home to abundant marine life, including schools of fish, octopuses, and sometimes even reef sharks. Divers can also explore the walls and pinnacles surrounding the caves, where they can spot colorful tropical fish, moray eels, and other exciting creatures.
Liveaboard trips to St. John's Caves are suitable for experienced divers, as the dive site can have strong currents and limited visibility. Following safety protocols and diving with a knowledgeable guide is essential to enjoy this fantastic dive site fully.
In conclusion, liveaboard trips to St. John's Caves offer divers the chance to experience an extraordinary underwater adventure. The unique cave formations, diverse marine life, and exciting diving conditions make this a must-visit destination for experienced divers looking for a one-of-a-kind experience in the Red Sea.
St. John's Caves is a must-visit dive site in the Red Sea, offering experienced divers a thrilling and mysterious journey through a unique underwater world. The colorful walls and ceilings, stalactites, and resident marine life make for an unforgettable diving experience. With liveaboard diving tours departing from nearby ports, exploring this hidden gem of the Red Sea has never been easier.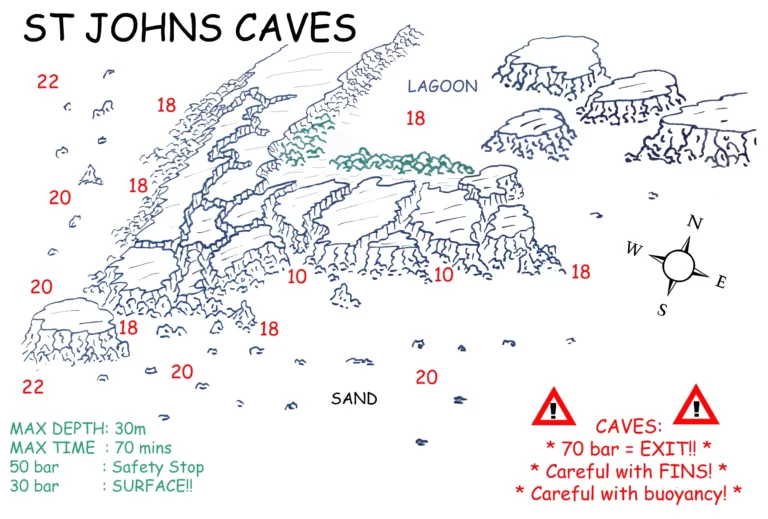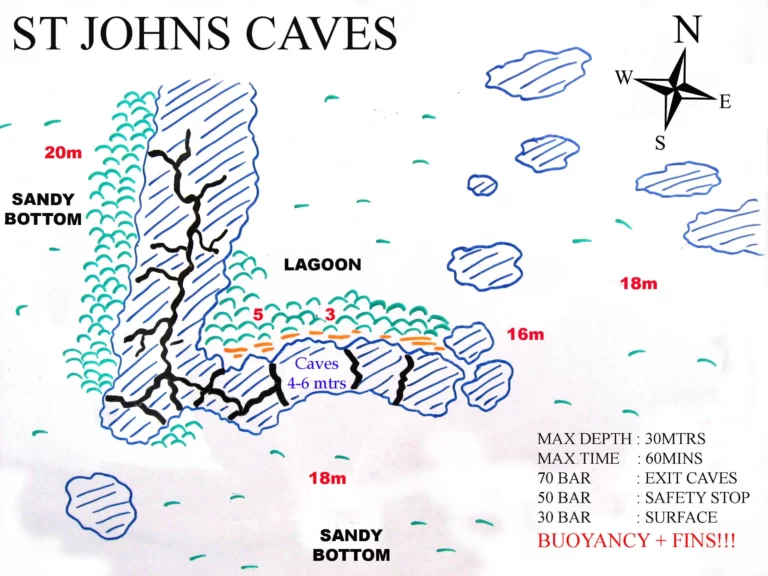 Where is St. John's Caves
St. John's Caves is located in the southern Red Sea, just a short distance from St. John's Reefs.