Abu Nuhas Reef is a popular diving site in the northern Red Sea, Egypt. The site is well known for its many shipwrecks on its seabed, making it a favorite destination for wreck diving enthusiasts. The site is easily accessible from the famous diving hub of Hurghada and liveaboard trips from Sharm El-Sheikh and Port Ghalib.
Abu Nuhas Reef has a long history of shipwrecks due to its location as the final obstacle before entering the Gulf of Suez from the Suez Canal. Many ships have hit the northern side of the submerged reef over the centuries. The triangular-shaped reef has its plateau close to the surface, making it easily visible during the daytime. The wrecks at the site include cargo vessels that sank in peacetime, with the oldest dropping 150 years ago. Modern navigation systems have prevented any accidents here in the past 40 years.
The wrecks at Abu Nuhas Reef are the main attraction for divers. Four of the five wrecks are easily accessible to recreational divers, while the fifth is too deep for regular divers. The wrecks are home to various marine life, including colorful corals, moray eels, scorpionfish, and other reef fish. The site has a depth range of 5-30 meters, making it an excellent place for all levels of divers. The site is also known for its strong currents, making diving challenging.
Giannis D is the Wood Wreck, because its cargo was soft wood. This is the easiest wreck to dive at Abu Nuhas and its mast is as shallow as 4 metres, meaning it's ideal for safety stops. The 100-metre-long ship sank in April 1983, breaking into two pieces. Its stern and bow are still very much intact, but the middle of the vessel is almost all gone. Giannis D was built and launched in Japan in 1969, named as Shoyo Maru, and then changed its name six years later to Markos. Then in 1980 the boat was bought by a Greek company and given its final name. It was on its was from Croatia to Saudi Arabia, and finally Yemen, but never made it past this hazardous reef in The Red Sea. Luckily there was no loss of life, because the crew had plenty of time to abandon ship. The stern lies in the sand at a depth of 24 metres, and the bow slightly shallower and facing away from the reef. The long mast of Giannis D extends almost exactly parallel with the reef to its shallowest point of 4 metres from the surface. This makes it very easy to end the dive ascending along the mast until your safety stop.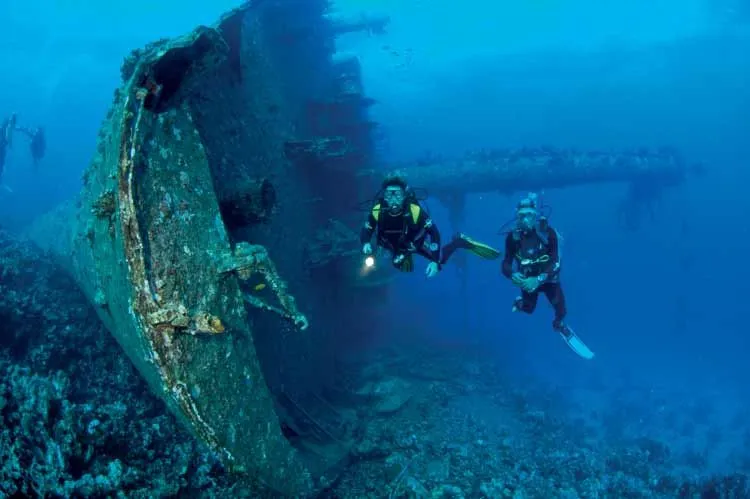 Next to Giannis D is Carnatic, also know to some as the Wine Wreck. This is the oldest of the Abu Nuhas wrecks, having sunk more than 150 years ago (1869). It was a 90-metre-long British-built steamer carrying wine and gold from Suez to Bombay. This was just a few months before the Suez Canal was opened. Carnatic was taking passengers and cargo which had sailed to Alexandria and then travelled overland to Suez to board Carnatic for the final leg of the journey. The wreck lies at 22 metres and although much of its wooden structure has gone, the steel ribs of the hull remain intact, giving it an eerie feel. Many divers regard Carnatic as their favourite Red Sea wreck. Having been there for 100 years longer than its neighbours, marine life and coral coverage is excellent here. The ship hit Abu Nuhas reef in the night and became wedged on the top. It was taking on water but the captain ordered everyone to stay on board for the night. Two nights and a full day passed before the ship broke under pressure and sank, and sadly 31 perished. Miraculously the two halves of Carnatic settled on the bottom in position, making it look like it sank before it broke into two.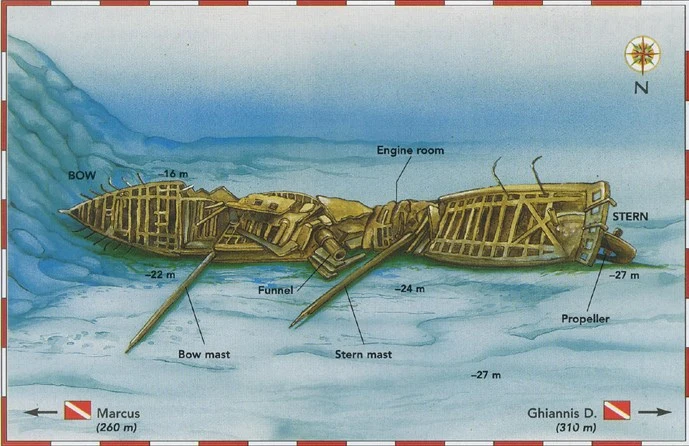 The Tile Wreck is actually named Chrisoula K. This was another Greek cargo ship, and measured nearly 100 metres in length. It sank in 1981 on its was out of The Suez Canal and towards its destination in Saudi Arabia with a consignment of Italian floor tiles. Like most wrecks here, the captain had stayed awake through the Suez Canal and had just handed over control to a deputy. After hitting the reef at Abu Nuhas, the bow protruded out of the water before the whole ship sank. Luckily no lives were lost. It now lies at depths ranging from just 4 metres to 28 metres. The shallower parts have succumbed more than the stern which remains intact. There are plenty of areas for divers to enter the wreck, including easier and more-challenging points.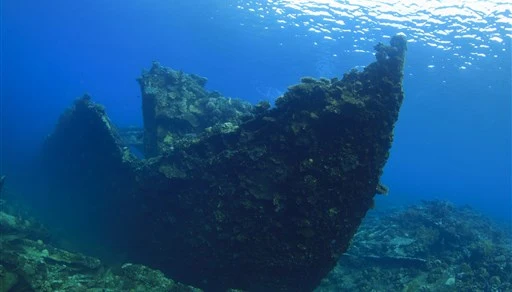 Finally, the Lentil Wreck (Kimon M) is actually one of two ships that wrecked here while transporting lentils. The other is SeaStar, but that lies at 89-90 metres. Kimon M is the largest and deepest of the four wrecks possible for recreational divers. It sank in 1978 on its way from Turkey to India. No lives were lost. It measured approximately 120 metres but now has lost some of that to the sea. Much of Kimon M's bow is now a scattered field of debris. At first, it was shallower but the sea conditions caused it to slip down the reef, meaning its deepest part is just over 30 metres and its shallowest is 15 metres. This is commonly the first wreck of the day to be dived allowing for NDLs.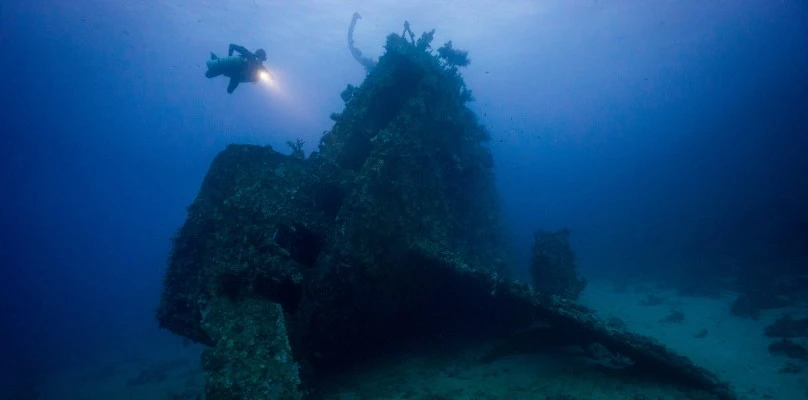 Liveaboard trips to Abu Nuhas Wrecks
Liveaboard trips are the best way to access Abu Nuhas Wrecks, located in a remote area of the northern Red Sea. Divers can choose from various liveaboard options departing from Hurghada and Port Ghalib. Most liveaboards will spend a day or two at Abu Nuhas Reef, allowing divers to explore the area's wrecks and other dive sites.
Abu Nuhas Wrecks is a must-visit site for wreck diving enthusiasts, with its five shipwrecks and abundant marine life. The site's location and challenging conditions make it best suited for experienced divers, but all levels of divers can enjoy the site with proper guidance. A liveaboard trip is the best way to access this remote and unique diving destination.
In the north of The Red Sea, at the mouth of The Suez Canal, lies Shadwan Island, the largest island in the area, and (Shaab / Sha'b) Abu Nuhas is 3.7 kilometers north of Shadwan Island.
Frequently Asked Questions for Abu Nuhas Dive site
Are the wrecks at Abu Nuhas suitable for all levels of divers?
The wrecks at Abu Nuhas vary in depth and condition, so some may be more suitable for experienced divers. However, there are also shallower portions of the wrecks that can be explored by novice divers.
What are the famous wrecks at Abu Nuhas?
Abu Nuhas is famous for having four wrecks in close proximity to each other: Giannis D, Chrisoula K, Carnatic, and Kimon M.
What marine life can be seen at Abu Nuhas?
Divers at Abu Nuhas can spot a variety of marine life, including schools of colorful fish, moray eels, octopuses, and occasionally larger creatures such as dolphins or even whale sharks.
What is the best time of year to dive at Abu Nuhas?
Abu Nuhas can be dived year-round, but the best time is generally from March to May and September to November when the water temperature is comfortable and visibility is typically good. However, weather and sea conditions can always vary, so it's best to check with your dive operator for the latest information.
Can liveaboards visit Abu Nuhas?
Yes, many liveaboards include Abu Nuhas on their itineraries, often as part of a longer Red Sea diving trip.
Is it necessary to have a wreck diving certification to dive at Abu Nuhas?
While having a wreck diving certification can be helpful for exploring the wrecks in greater detail, it is not strictly necessary as long as divers have the appropriate level of diving experience and are accompanied by a certified guide. However, individual dive operators may have their own requirements or recommendations.