Ras Mohamed National Park is a world-renowned diving destination located at Egypt's southernmost tip of the Sinai Peninsula. The park was declared a protected area in 1983 and has been a popular destination for divers and snorkelers ever since. Ras Mohamed National Park boasts some of the most stunning coral reefs in the world and is home to a vast array of marine life. This article will explore the diving opportunities, marine life, and liveaboard trips available at Ras Mohamed Island.
Ras Mohamed Island has a rich history that dates back to ancient times. The ancient Egyptians used the island as a trading post and a strategic military base. During the Ottoman Empire, the island was used as an army garrison to protect the Red Sea coast. The island played a significant role during World War II as it was a landing site for the Allied Forces during their North African campaign.
Ras Mohamed Island is a paradise for divers, with over 800 species of fish and more than 220 species of coral. The island has more than 20 dive sites that cater to divers of all levels. The dive sites around Ras Mohamed Island are famous for their strong currents, which bring in nutrient-rich waters that support a vast range of marine life.
Some popular dive sites include Shark Reef, Yolanda Reef, and Ras Za'atar. Shark Reef is a dramatic wall dive that drops to 800 meters and is home to barracudas, jacks, and trevally schools. Yolanda Reef is another popular site famous for its abundant marine life, including Napoleon wrasses, angelfish, and unicornfish. Ras Za'atar is a great site for beginner divers, with its shallow waters and easy access.
Marine Life at Ras Mohamed
The marine life around Ras Mohamed Island is diverse and plentiful. Divers can expect to see a range of fish species, including sharks, barracudas, groupers, and snappers. The island is also home to many species of colorful coral, including brain coral, staghorn coral, and fire coral.
The waters around the island are home to a vast range of aquatic marine life, including whale sharks, manta rays, and turtles. Divers can also explore underwater caves, swim-throughs, and tunnels home to smaller marine life, such as nudibranchs, shrimp, and crabs.
Liveaboard trips to Ras Mohamed
Liveaboard trips are the best way to explore the dive sites around Ras Mohamed Island. Many liveaboards offer 3-7 day trips that allow divers to explore the best dive sites in the area. Most liveaboards depart from Sharm El Sheikh and provide comfortable accommodation, delicious meals, and experienced guides.
A typical liveaboard trip will take divers to dive sites around Ras Mohamed Island, including Shark Reef, Yolanda Reef, and Ras Za'atar. Divers can expect to make 3-4 dives daily, with the opportunity to explore the island's marine life both during the day and at night.
Popular Dive Sites in Ras Mohamed
Shark Reef
Shark Reef lies 200 metres from the peninsula's tip, 65 metres long and 45 metres across. Due to its location and the deep water to its eastern side, there is a good chance of seeing sharks here, especially for liveaboard divers early in the morning. The reef is covered in hard & soft corals, which are very healthy. Enjoy plenty of schooling fish just off the reef, and smaller fish and invertebrates are all over the corals and fans.
Yolanda Reef is next to Shark Reef, making diving one after the other a great idea. It's also very similar in size and shape. It's a great place to see sharks early in the morning or as the final dive of the day after the day-trip boats have left. The water to the south and east is also very deep here, and it's worth keeping an eye on your computer and out into the blue.
Yolanda Wreck
Yolanda Wreck is unique in many ways. It was a 75-metre-long vessel carrying a large cargo of bathroom ware, mostly made up of toilets. It sank in 1980, right next to Yolanda Reef on its western side. It was a famous dive for a few years, but during a storm in 1985, the wreck slipped off the reef and was lost. Twenty years later (2005), two British divers located the reef at 145+ metres below the surface, breaking a record for the deepest wreck dive. Nowadays, only the cargo of toilets and bathtubs are within reach of recreational divers.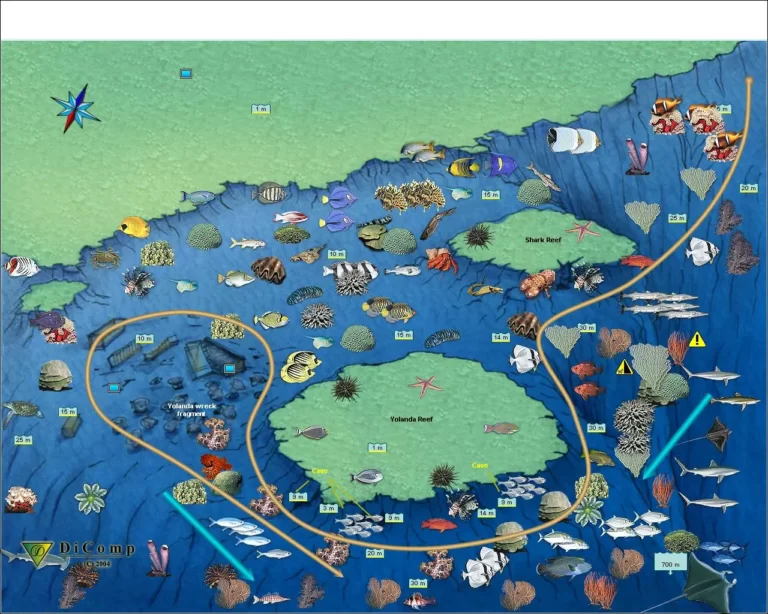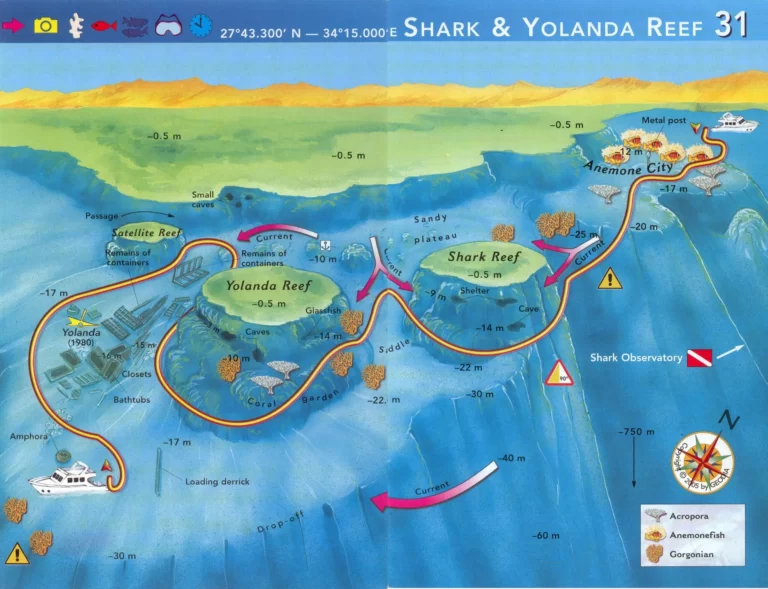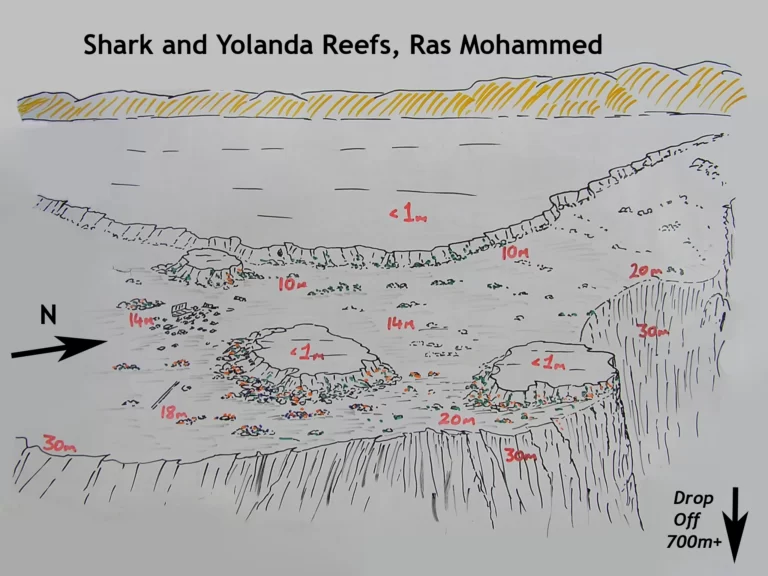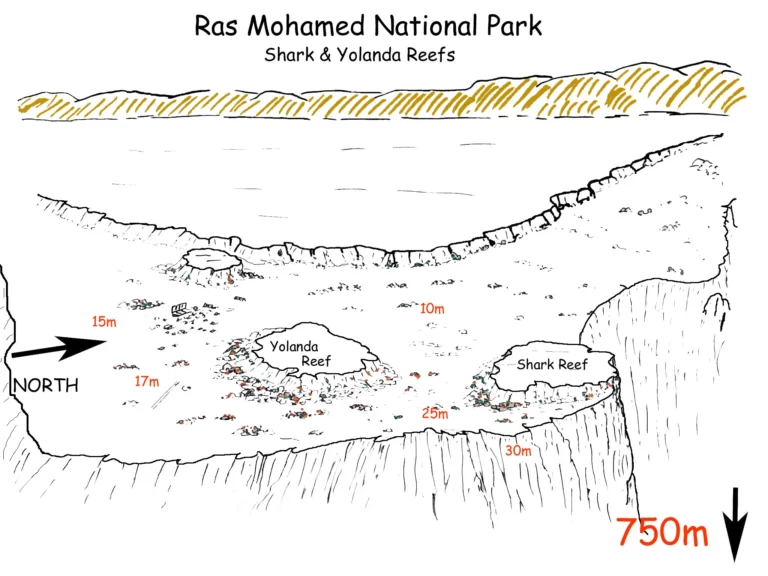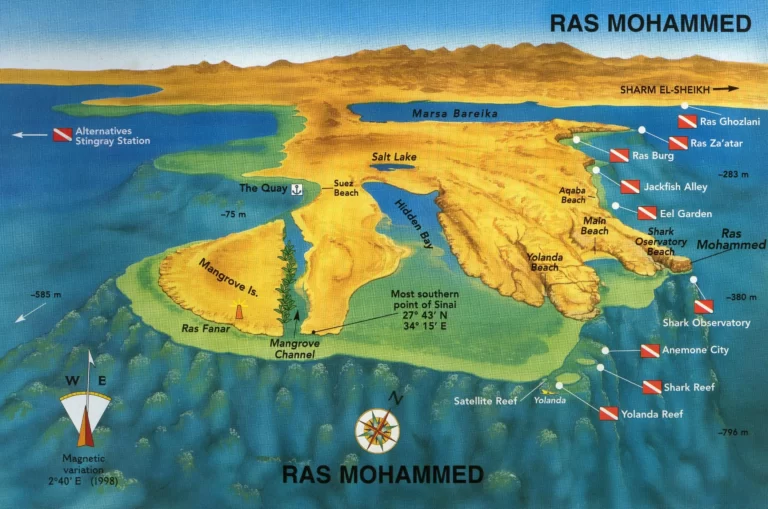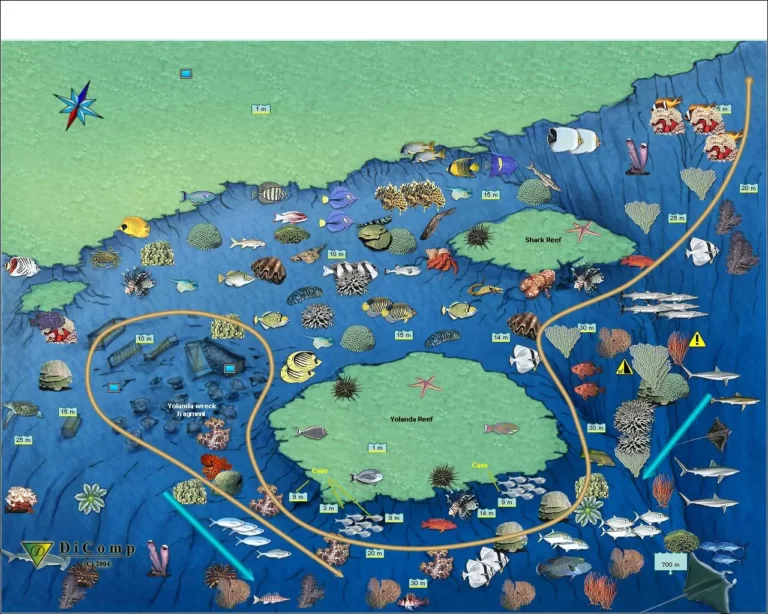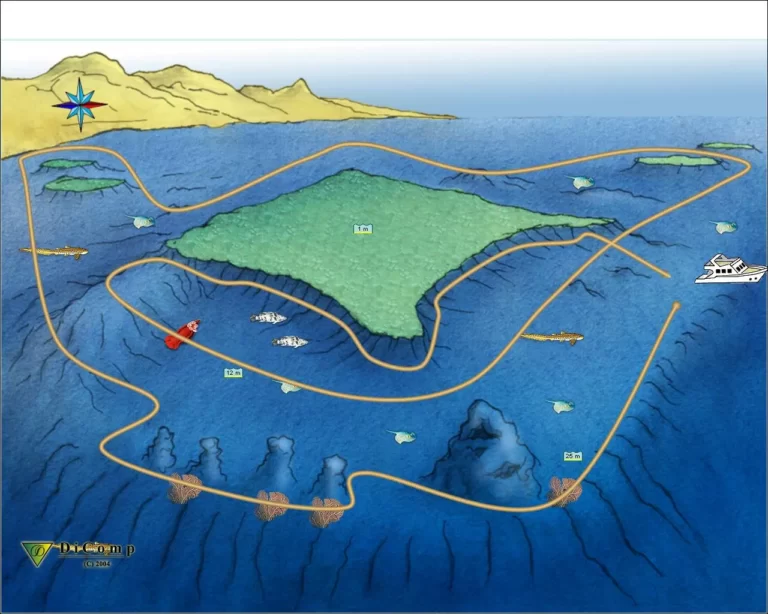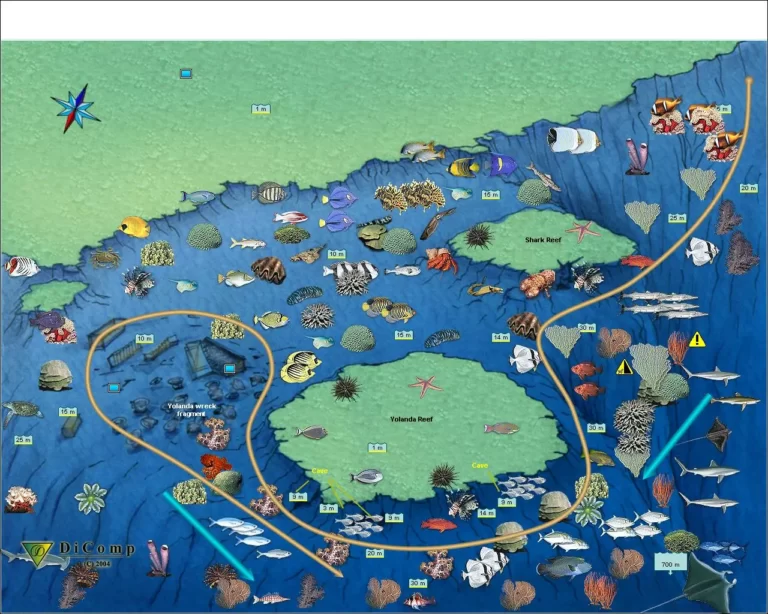 Satellite Reef
Next to Yolanda Reef to the west is Satellite Reef, which is about half Yolanda's size. The water is shallow to its north and west, with a vast plateau to explore. But to the south and east is a deep water drop-off. 
Anemone City
North of Shark Reef is Anemone City, which gets its name from the vast area covered by anemones of several species and filled with resident Anemonefish, crabs, and shrimps. This dive site has several levels or mini-plateaus to explore, and even though it's colorful and covered in life, remember to keep one eye out in the blue for a passing shark. It's good to dive here early in the day, with the sunshine from the east and fewer divers to scare away shy species of fish and maybe sharks.
Shark Observatory
Shark Observatory is further to the north and located on the peninsula's westernmost point. This dive site got its name from the number of sharks that can be seen here, but sadly there are very few left now. Early-morning divers might see some Whitetip Reef Sharks in deeper areas. But even without sharks, this dive site is well worth visiting. There are many medium-sized and large fish and vast shoals of smaller species. The near-vertical wall drops to nearly 100 meters, meaning there's the chance of almost anything showing up if you're lucky.
Other dive sites in Ras Mohamed include
Jackfish Alley
Eel Garden
Ras Za'tar
Ras Burg
Ras Ghozlani
Ras Mohamed Island is a must-visit destination for any diver or snorkeler looking to explore the beauty of the Red Sea. With its rich history, stunning coral reefs, and diverse marine life, the island offers an unforgettable experience for any diving enthusiast. Whether you are a beginner or an experienced diver, the dive sites around Ras Mohamed Island offer something for everyone. With liveaboard trips available, divers can explore the best dive sites in comfort and style, making it the perfect destination for a diving holiday.
Ras Mohammed / Mohamed is at the northern tip of The Red Sea, where it splits into the Gulfs of Suez and Aqaba. The area's centre is the southern tip of The Sinai Peninsula.
Ras Mohamed

Shark Reef

Yolanda Reef

Satellite Reef