Ras Disha is a fantastic dive site suitable for all levels of divers. The site features a gently sloping reef covered in colorful soft and hard corals and a variety of marine life, including reef fish, rays, and sometimes even sea turtles. The visibility at Ras Disha is usually excellent, allowing divers to fully appreciate the vibrant colors and intricate details of the coral formations.
The dive site is close to the shore, making it easily accessible by boat from Makadi Bay. The maximum depth at Ras Disha is around 20 meters (65 feet), making it an excellent site for beginner and intermediate divers. There are also some deeper areas for more experienced divers to explore.
Ras Disha is a great dive site for those interested in marine life. The reef is home to various species, including angelfish, parrotfish, clownfish, moray eels, and octopuses. You may also spot larger animals like eagle rays and reef sharks.
One of the fascinating features of Ras Disha is its coral formations. There are many different types of coral, including brain coral, fire coral, and staghorn coral. The vibrant colors and intricate shapes of the coral make for a stunning underwater landscape.
Ras Disha is characterized by its clear waters, beautiful corals, and colorful fish. Divers can expect to see a range of species, including reef sharks, stingrays, and schools of colorful reef fish. The coral reef system at Ras Disha is one of the most diverse and spectacular in the region, and it is home to a wide range of hard and soft corals, sponges, and sea fans.
One of the most popular dive sites in Ras Disha is the House Reef. This dive site is easily accessible from the shore, and it offers divers the opportunity to explore a beautiful coral garden, home to an array of colorful reef fish. The site is suitable for divers of all levels, with depths ranging from 5 to 20 meters (16 to 65 feet).
Another popular dive site in Ras Disha is the Abu Hasish Cave, a stunning underwater cavern that is home to a range of marine life, including schools of glassfish, moray eels, and sometimes even turtles. The cave is located at a depth of around 25 meters (82 feet) and requires some experience in cave diving. However, it is an unforgettable experience for those who are qualified to dive there.
One of the advantages of diving in Ras Disha is that the dive sites are relatively uncrowded, allowing divers to fully immerse themselves in the underwater environment. The dive operators in the area are committed to sustainable diving practices, ensuring that the marine environment remains pristine for future generations to enjoy.
In addition to diving, visitors to Ras Disha can also explore the beautiful beaches and crystal-clear waters of the Red Sea. The Makadi Bay area is home to a range of resorts, restaurants, and other attractions, making it an ideal destination for those looking to combine diving with other activities.
Overall, Ras Disha is a fantastic dive site in the Red Sea that is perfect for divers of all levels. With its stunning coral formations, clear waters, and diverse marine life, it's no wonder it's such a popular destination for divers worldwide. So if you're planning a trip to Egypt and looking for a great dive site to explore, make sure to put Ras Disha on your list.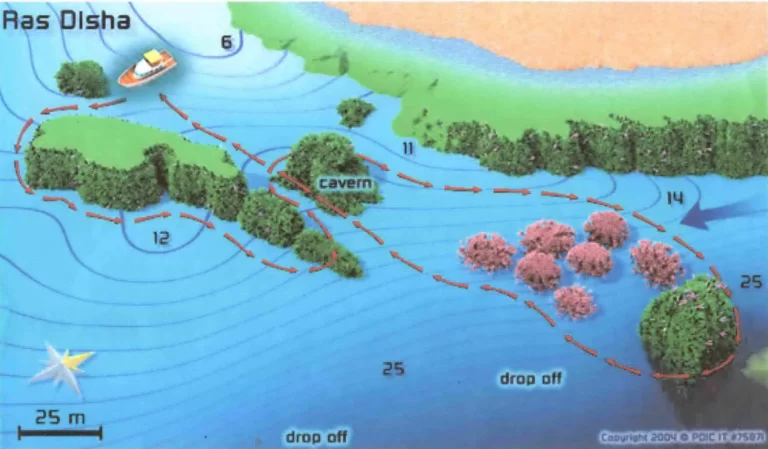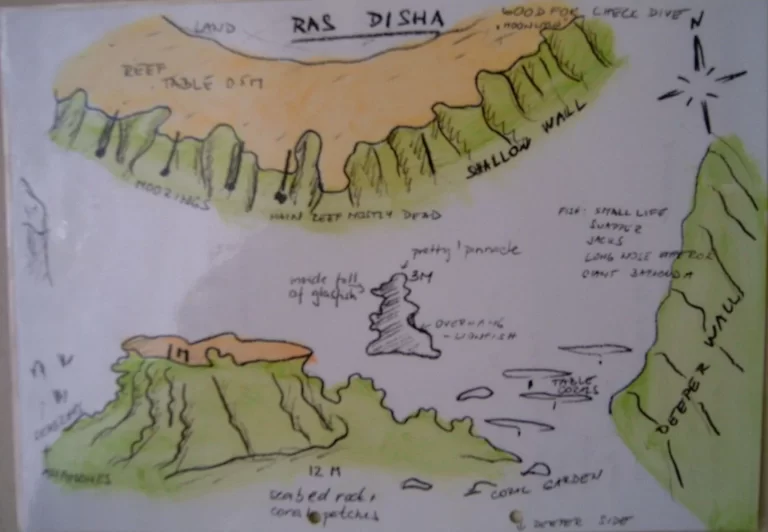 Ras Disha is located in the Makadi Bay area, around 35 kilometers (22 miles) south of Hurghada, which is a popular tourist destination in Egypt. It is situated on the western coast of the Red Sea, with the eastern coast of Egypt visible across the water.